Digital nomad life has always appealed to me as I am sure it does you.
Despite the last few years, there is something amazing about being in charge of your own destiny.
While there are pitfalls and learning curves for sure, one of the best things is that you can eliminate the things about work that you don't like.
Interestingly, if you type 'digital nomad' into Google and click through to the images, you'll find a bewildering display of contented individuals sitting alone at a laptop on the beach, in a bar, in a camper-van or halfway up a mountain.
Despite these pictures trying to capture the blend of work and play, the reality is most online entrepreneurs don't do that.
At least not very often.
The reason is, they are fantastically unproductive places to work.
What digital nomad life does do, however, is give you the opportunity to work in various places whenever you choose.
Sometimes I work at home, although living in Chiang Mai, I often find myself scootering to a coffee shop in town and setting up there.
I work until my brain goes fuzzy and then I scooter home again, or onto another coffee stop.
Simple choices work for me.
My commuting time ranges from zero to 5 or 10 minutes, as Chaing Mai isn't that big.
The average commuting time in the US is a shade over 52 minutes every day.
That to me sounds insane.
It's 4.5 hours a week, or 18 hours every single month.
And that's the average.
In many places, it can be dramatically worse.
Almost two whole days just for traveling to work.
Incidentally, a friend of mine decided to work at a coffee shop the other day in the mountains.
It had WiFi and overlooked some of the most beautiful valleys and gorges.
Take a look.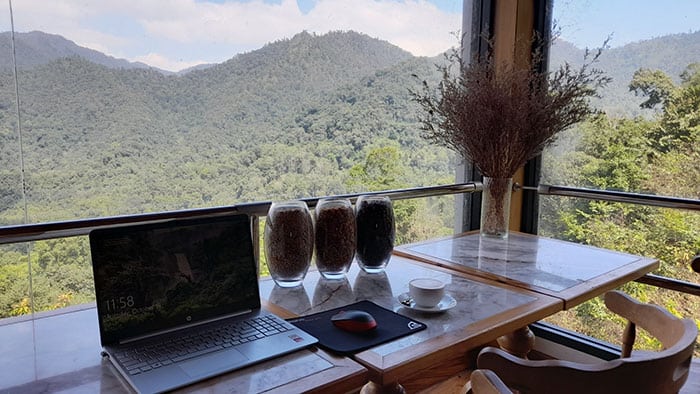 The fact that this is an option around here is amazing.
Still, it was about an hour to get to, so if I choose to spend as much time commuting as the average US citizen, at least I know I will be in the Thai jungle at an organic coffee shop with the most stunning scenery available in Asia.
Where are you?
If you're sick of spending hours commuting back and forth to work, then isn't it about time you did something about it?